ATS is now updated to version 1.32 as a beta. The update brings most of the upgrades that were added to ETS2 last week. The most important are trailer ownership. You can now buy, tune, paint and use trailers for yourself or your drivers. If you don't lock your trailer for yourself, you might have the surprise to not find a trailer that you left in the garage, because one of your drivers might be using it.
The patch also brings trailer cables on AI trucks and one new restriction – long trailers (53 feet – 40+ feet from kingpin to rear axle) are now forbidden in California.
On the US-191 you'll discover Morenci Mine, the biggest copper mine in the United States, by the newly added small city of Clifton.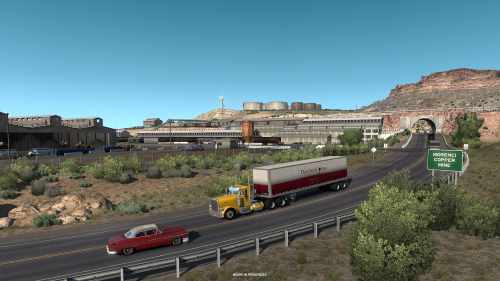 Main new features:
Trailers ownership (read more)
Major UI changes (Main menu, Company Management screens, Dealerships, etc.)
Job filters redesign
Some of the old trailers discarded and redesigned
New roads added: US-550 (NM), US-95 (AZ), US-191 (AZ), Clifton city (AZ)
Remade and redesigned few places (e.g. I5-I80 interchange)
Power/air lines on AI vehicles (optional)
Rendering speedup
Option for automatic parking brake – disabled by default
Long 53ft trailers (40+ feet from kingpin to rear axle) forbidden in California
MOD ALERT:
Completely redesigned trailer-cargo logic (cargo data, trailer data, economy, etc.). Most mods will need some work to catch up!
How to install American Truck Simulator patch 1.32 beta? simply go to your Steam library and select American Truck Simulator. Right click on the name then go to properties and then click on BETAS. Select the beta you want from the list ("public_beta – 1.32 public beta" in our case). More info here: 
How to install beta updates
Read the original SCS Soft post about the patch here.