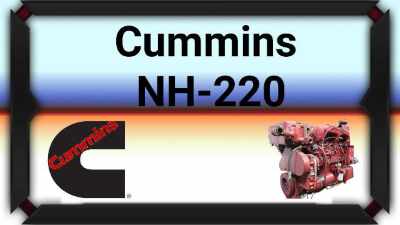 This mod adds a 1959 Cummins NH-220 engine to the game!
The NH-220 is a 12 litre, naturally aspirated engine (no turbo, no supercharger) from 1959 which produces 220HP (164kW) and 606lb-ft (821Nm) of torque. There were versions of this engine made later which had either a turbocharger (NH-262) or a supercharger (NHS-275), but this mod only adds the 220.
The NH-220 was found in trucks, heavy equipment, marine, and as a generator. This engine was originally known as the NHB-600 and made only 200HP, but in 1959 Cummins had it producing 220HP and decided that was enough to justify renaming it. The base core of every company is its price list. Car breakdowns are usually unexpected for their owners; an additional expense on top of the daily routine can be stressful. At G.A. towing and roadside assistance services in Los Angeles, we totally understand that we will do our best to meet your budget expectations and transport your car to the mechanic safely.
Prices may vary due to the vehicle condition and location, and we always recommend calling a few providers before booking a service. We do work with all the major insurance providers and motor clubs, so that may help you to save a few bucks. We will always meet the highest quality standards of safety and professionalism.
Maximum tow capacity is going to be in the area of 50,000lbs, but is somewhat reduced with a steep enough grade, for bigger towing needs they can visit quicktowingservice.ca/ottawa/ to get the right services for this.
About The Mod:
You will find four horsepower options for this engine in all vanilla trucks and many modded ones too.
The first one is based on official specs (as best as I could find), outputs realistic power for this engine. I highly recommend you try this version out.
1. 220HP and 606 lb-ft.
The next three versions are made-up and never really existed. These are here for people who like the way the engine sounds but don't want to give up the power they are used to.
2. 440 HP and 1,220 lb-ft.
3. 600 HP and 1,650 lb-ft.
4. 750 HP and 2,050 lb-ft.
This mod also includes a Spicer 18 speed compound transmission. This is made up of a 6-speed PSO140-6A main box and a 4-speed AMO1750-4D auxiliary transmission with Low, Under, Direct, and Overdrive gears.
Driving Habits:
So because of the lack of turbo, the NH-220's peak torque and horsepower are at a pretty high RPM, but the power band is also quite wide. It makes peak torque from about 1300rpm all the way up to about 1700rpm, and max horsepower at the redline: 2100rpm.
Operating range will mostly be about 1400 – 1850rpm on level roads, but if you've got extra weight or are on a steep grade you'll want to add about 250 RPM to both of those numbers. This is very different from most engines in this game where you rarely exceed 1500. Basically, you're going to want to rev the snot out of this engine.
This engine used to come in trucks that had two transmissions for 16 total gears. My recommendation is that you do take a 10, 13, or 18 speed. Don't take something with fewer gears unless you're using one of the higher horsepower versions. Your horsepower curve really favors the top end, so you need something with enough gears that you aren't dropping to 1000rpm after a shift.
Supported Trucks:
Vanilla ATS:
– Kenworth T680
– Kenworth W900
– Peterbilt 389
– Peterbilt 579
Vanilla ETS2:
– DAF XF 105
– DAF XF Euro 6
– Iveco Stralis
– Iveco Hi-Way
– MAN TGX
– Mercedes Actros
– Mercedes New Actros
– Renault Magnum
– Renault Premium
– Scania R 2012
– Scania Streamline
– Scania R 2016
– Scania S 2016
– Volvo FH16 2009
– Volvo FH16 2014
Modded:
– DAF CF (RTA)
– Freightliner Argosy
– Freightliner Cascadia 2018
– Freightliner Columbia
– Freightliner Classic XL
– Freightliner Coronado
– Freightliner FLB
– Freightliner FLD
– International 9800
– International 9900
– Kenworth 521
– Kenworth K108 (RTA)
– Kenworth K200 (RTA)
– Kenworth Needle Nose
– Kenworth T610 (GTM)
– Kenworth T800 (GTM)
– Kenworth T800 2016 (ModSaver)
– Kenworth W900A
– Kenworth W900B (GTM)
– Kenworth W900L "Big Bob Edition"
– KRAZ 64431 AZOV
– Mack B61
– Mack R Series (Harven)
– Mack RS700l
– Mack Rubber Duck
– Mack Superliner
– Mack Titan
– Mack Ultraliner
– MAN TGA
– MAN TGX Euro 6
– Mercedes MP1
– Mercedes MP2
– Peterbilt 281
– Peterbilt 357
– Peterbilt 359
– Peterbilt 389 (Viper2)
– Peterbilt 567 (GTM)
– Scania RS (RJL)
– Scania T
– Scot A2HD
– Sisu R500 C500 C600
– Ural Next
– Volvo VNL 2019
– Volvo VNL670 (Aradeth)
– Volvo VNR
– Western Star 4900
Credits: vsTerminus