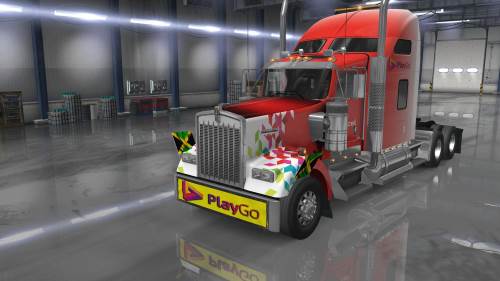 Thank you so much for downloading my Digicel PLay Skin for both trucks and trailers.
I have tested this mod on version 1.33 for the following trucks:
Kenworth T680
Keworth W900
Petebilt 389
Petebilt 579
Petebilt 389 Viper
Volvo Vnl 780
Volvo Vnl 860 (2019)
This Mod also includes:
Truck Mudflaps
Truck Flag
Truck Banner
Trailer Mudflaps
Trailer Flag
Trailer Banner
Company updated billboard pictures
Regular street updated billboard pictures
Redesign of Garage with ideas from here.
New Road Texture
SCS AI Tranist Van Skin
Please enjoy and drive safe!
Credits: Nizmo (steam)
Uncle_D (Steam)
Pauly (steam)
T-Rex Pahoa
IJ'S Mods
Pauly
Creator: Xample from Artistic Media
follow me on instagram dj_xample or #artisticmediaproduction
add me on facebook: Odain Xample Prince