GTM Kenworth W900B 1.31
|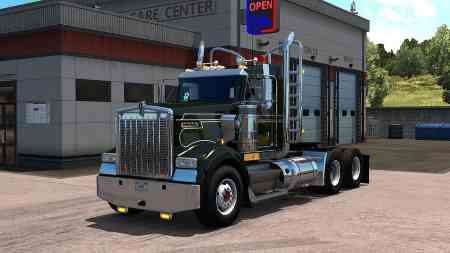 It's a clone of SCS truck – what's the point?
Well, first of all we wanted to give you guys a new truck, yes it's very similar to SCS one, but it gives us our own W900 truch which we can freely modify with new stuff (like more cabs or chassis variants) without affecting SCS truck. Not to mention I personally think that a "workhorse" W900B will be alot more fitting for the upcomming ST dlc than the "showtoy" W900L SCS gave us.
What's icluded in the mod?
The mod contains the truck (duh) and all the appropriate tuning for it which is identical to the SCS W900 with a few more custom parts.
Credits: GTM Team:
Wolfi, SCS – models
Natvander – def files, technical consulting
DaStig, Sabr, Natvander, Wolfi – paintjobs, UV Mapping/templates consulting
SiSL – interior addon compatibility, interior tuning locators, standalone files, Steam Workshop version
Carl1992 – non-Steam Workshop files, beta testing
Azu – beta testing