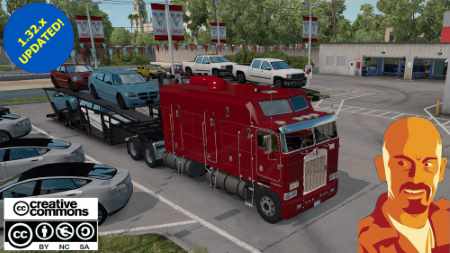 KENWORTH K100 ATS 1.32.x
Adaptation to ATS 1.32.x.
Trailer cables ready!
Some improvements and fixes.
Clean gamelog.
Few accessories added.
Reworked chassis.
SiSL Megapack addon INCLUDED.
You need SiS'L megapack to have all the cabin accessories available.
Please inform about bugs/errors. Thank you.
Enjoy it. 🙂
YOUTUBE (SUBSCRIBE!): https://www.youtube.com/c/cyrusthevirus_mods
INSTAGRAM (FOLLOW ME!):
https://www.instagram.com/cyrusthevirus_mods
SUPPORT ME WITH A SMALL DONATION (ANY QUANTITY):
https://www.paypal.me/cyrusth3virus
MOD PROTECTED BY CREATIVE COMMONS LICENSE V4.0.
https://creativecommons.org/licenses/by-nc-nd/4.0/
YOU CAN SHARE FREELY BUT ONLY USING THE ORIGINAL LINKS.
UPLOAD THE FILES TO OTHER SERVERS IS NOT PERMITTED.
Credits: CyrusTheVirus, Ivan, Ols, AU44, Oleg_Conte, Darklorrd, Rus47tam, V4sil3, BoomStas556, Dmitry68, SCS, Henki73, Waggi74, Pauke2004, Vitalik062, Scaniamatteo, RouDou, Kriechbaum, OddFellow, Pauly, Richthofen20, BrianC, Darkside220, [JNR-SNR] Senior, Bobbo662, Andybb3, Jet, Rondo, DrRossi, EVR, Term99