FREIGHTLINER CASCADIA ATS 1.31
|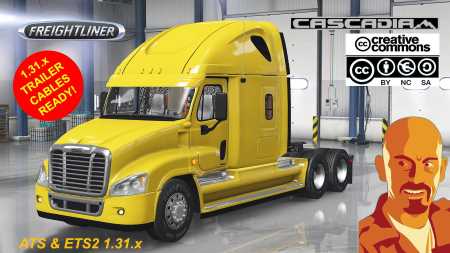 FREIGHTLINER CASCADIA ATS 1.31.x.
In this update:
Buy it at PETERBILT dealership.
Adaptation to 1.31.x ATS game version.
Trailer cables ready.
SiS'L megapack addon INCLUDED.
You need SiS'L megapack to have all the cabin accessories available.
Enjoy it. 🙂
MOD PROTECTED BY CREATIVE COMMONS LICENSE V4.0.
https://creativecommons.org/licenses/by-nc-nd/4.0/
YOU CAN SHARE FREELY BUT ONLY USING THE ORIGINAL LINKS.
UPLOAD THE FILES TO OTHER SERVERS IS NOT PERMITTED.
SUBSCRIBE TO MY YOUTUBE CHANNEL TO BE UPDATED ON NEW MODS!
www.youtube.com/c/cyrusthevirus_mods
¡FOLLOW ME ON INSTAGRAM!
https://www.instagram.com/cyrusthevirus_mods
If you like this mod, you can support me and I will can make more and better mods. No amount is too small. THANK YOU:
www.paypal.me/cyrusth3virus
Credits: CyrusTheVirus, Slamauser, Jon_Ruda, Sergej Baltazar, Solaris36, Mandy, Kriechbaum