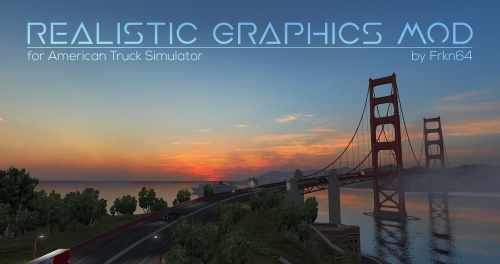 2.1.2 update released. Changes;
– Fixed the problem that the chrome parts appearing gray/dimmed.
– Added several new skybox textures.
– Added realistic terrain textures.
– Added realistic water textures.
– Added a bit bloom effect for only nights.
– Added support for Mario Map.
– Improved sun color/brightness.
– Improved all road textures.
– Improved raindrop effects.
– Optimized graphical colours.
– Removed unused files.
– Minor bug fixes.
This mod improves ATS graphics for better realism.
Features
– First and top rated graphics mod in ATS Workshop.
– 72 Realistic skybox textures in 4K quality
– Realistic shadows of the clouds
– Realistic in-game coloring
– Realistic light flares & reflection effects
– Realistic road textures in 2K quality
– Realistic terrain textures
– Realistic rain & thunder sounds
– Realistic raindrop effects
– Realistic water textures
– Improved climates
*This mod increases frame rate.(Confirmed by many users.)
*Some skybox textures was made by SGate.
Tips for users
Tip 1: For more vibrant in-game colours, turn on the "Color Correction" option in the graphic settings.
Tip 2: To disable in-game bloom effect, turn off the "High Dynamic Range" option in the graphic settings.
Tip 3: For high quality skybox and road textures, set "Texture quality: High" in the graphic settings.
Required Game Version
1.31.x
Credits: Frkn64